Learn to use Camtasia 2020, a complete screencast creation suite that you can use to capture and edit video, create interactive learning experiences, and publish instructional media. In this course, you will learn the essentials of creating compelling video content with this go-to tool. Learn how to create software-based training and slides-based training that draws your viewers deeper into your content. Author Chris Mattia teaches you how to edit video footage and audio to better tell your story. Learn how to record your voice like a pro and focus your learner's attention with annotations and creative visual storytelling techniques. Plus, Chris shows how to share your content with the world and collaborate with co-authors on Mac and Windows.
This course has been recorded for both the Mac and Windows versions of Camtasia 2020. Exercise Files for each platform can be downloaded from inside of the course.
Topics Covered:
Selecting and calibrating your microphone
Recording your computer screen and voice
Mastering the 3 basic edits: Slice, Trim, and Ripple
Editing with Magnetic Tracks
Mastering Selections with the playhead and keyboard shortcuts
Using Clip and Timeline Markers
Focusing learner's attention with Annotations
Enhancing your story with Transitions
Speeding up your workflow with Themes, Libraries, and Templates
Sharing Movies to YouTube
Bonus Chapter: Recording Pro Tips
Camtasia 2020 Essential Training: The Basics
Author: Chris Mattia
Total Run Time: 2:46:47
Movie Count: 48
Exercise Files Included: Mac & Windows
Use this affiliates link to purchase your copy of Camtasia 2020 directly from Techsmith and help provide additional support to the author of this course.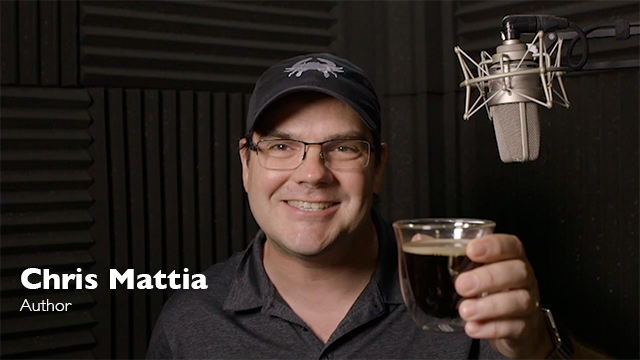 Hi, I'm Chris Mattia
I've been creating professional screencasts for business and education for over 20 years.
As one of the original Producers for lynda.com, I worked with dozens of authors to create over 500 hours published video based training in that first year alone. Working one on one so many talented authors and the world class production team at lynda.com, I gained invaluable insights into every aspect of the screencast production pipeline. From preparing and delivering quality instructional screencasts to the technical aspect of recording, editing and delivering that content to learners like you.
Now as an independent author, I've refined my screencasting skills even further, learning to master the art of content creation by taking on the role of author myself. I've publish over 25 courses in the LinkedIn Learning and lynda.com Online Training Library and have had more than 300,000 learners take my courses.
I've thus, combined my Producer and Author experiences with more than 20 years of higher education experience as an Instructional Designer, Teacher, and Director of Academic Technology; Earning a Masters degree in Online Instructional Design along the way. In higher education I worked at St Mary's College of Maryland, Art Center College of Design, and California State University Channel Islands.
I now run my own instructional media production company, Callinectes Training, LLC where I also handle the business end of the equation as well as the technical post production pipeline of editing and preparing content for delivery to customers.
I developed the WaveTalkers platform as a way to apply the teachings of my Creating and Deploying Microlearning course I published in 2018. The platform initially targeted Ham Radio Operators, but is evolving to encompass effective communication in all mediums.
I'm excited to share all of this experience with you to help you on your journey to becoming a more effective communicator with Camtasia 2020.
Thank you for Supporting the Author
This version of Camtasia 2020 Essential Training: The Basics is being offered directly by the author Chris Mattia on the WaveTalkers platform.
100% of your course registration fee for this course on WaveTalkers goes directly to the Author of this course. Thank you for Supporting the Author and ensuring more courses like this can be produced.
Course Also Published on LinkedIn Learning and lynda.com
This course will also be published on LinkedIn Learning and Lynda.com. Therefore, once published on those platforms, if you already have a subscription to either LinkedIn Learning or Lynda.com, you can watch this course on those platforms as part of your normal paid subscription to their platforms. Purchasing access to the course via the WaveTalkers platform does not in any way grant you access to LinkedIn Learning or lynda.com; those services have different membership and access plans and are not associated with Callinectes Training, LLC. The core video content will be the same on all platforms.
As soon as the course is published on those platforms, a link to those versions of the course will be provided here for your convenience.